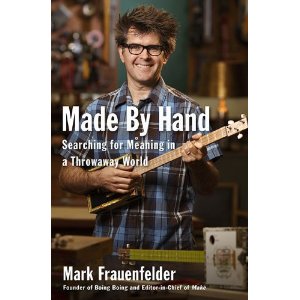 Memorial Day weekend is a good time to catch up on reading, so I picked up this DIY manifesto by MAKE editor and Boing-Boing founder Mark Frauenfelder. It was an easy and pleasurable read.
The book starts off dramatically with the author's decision to move his family to a South Pacific island. He quickly learns, along with anyone who has ever read The Sex Lives of Cannibals, that these islands are third-world countries with rusted buildings and sub-standard medical care. He moves back within four months. He decides to find another path to a meaningful life — one that will still allow him the comforts of U.S. suburbia.
His solution to this problem was to explore ways of making his own food and tools and educational experiences for his kids. The book repeats a pattern for most of this: he finds a really interesting person who is living at the extreme, documents their lifestyle, then takes a more moderate approach himself. As with the island excursion, he is willing to try some truly unusual projects, which mostly don't last. This makes the book accessible for people for me who are never going to give up going to the supermarket, but still want to enjoy the satisfaction of making. And as such, he reaches some of the same compromises. No, we won't homeschool our kids, yes we will supplement a standard school education with hand-on projects.
I have never tried to formalize my reasons for creating things. Intellectual stimulation, building new competencies, and feeling more control over the physical environment are certainly part of it. And if you are very lucky, you end up with something beautiful or entertaining. Whether one can fully claim that meaning is being added to the world, I don't know. Unless one is fully dedicated to recycling, you will still end up buying parts and tools and driving to Home Depot. I am fully aware that I am still a consumer. No question though that it can be very satisfying.
Frauenfelder notes that the amateur science movement suffered a blow when personal computers were invented; many of the people who might have done science or DIY gravitated to this new platform. But as computers and the web have matured, many people are tiring of living a fully virtual world and want to make something tangible. I believe this is correct. I've certainly experienced this feeling myself, and have heard many IT colleagues and academicians say similar things. Part of me wonders, though, if this too will be a phase. Frauenfelder has shown himself to be a genius at finding trends and was a key part of the Internet bubble. According to the book he has moved into DIY for the last 18 months — not long. Will whittling spoons still be meaningful ten years later, or will it seem a poor use of time?
Ironically for a book that celebrates handcrafted objects, I experienced it in virtual form. I alternated between my Kindle and the Kindle App for the Blackberry. They both performed admirably. I had never really used the Kindle App for the Blackberry before. Since my Blackberry goes everywhere with me, and has a backlight for nighttime reading, this means I will never be away from a vast library. That is both an exciting and daunting prospect. It is yet another opportunity for the virtual world to overwhelm the real one.